Friends for Research
The Friends for Research Golf Outing and Evening Event was held at The Legend at Brandybrook in Wales, Wisconsin. Thanks to those who were able to spend the day or your evening with us.
This event was held in honor of Jack and Todd Brayman, from Pewaukee, Wisconsin who have been diagnosed with Guanosine Triphosphate Cyclohydrolase I Deficiency (GTPCH).
Proceeds from the event were donated to the PND Association who is committed to the identification and treatment of pediatric neurotransmitter diseases through education, advocacy and research.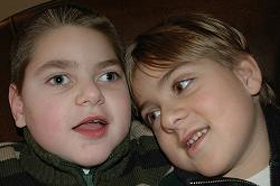 Please click on the link below for more information on the 2011 Friends for Research Event.
| | |
| --- | --- |
| Event: | Golf Outing/ Evening Event |
| Location: | The Legend at Brandybrook |
| Date: | May 23rd, 2011 |
| Raised: | $32,000.00 |
Thinking about running your own event to help support PND Research?
Big or small, you can make a difference and organize your own event.
Hope for tomorrow begins today!